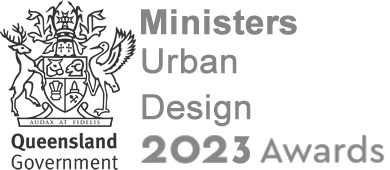 The Miles Streetscape was awarded the commendation in the 2023 Department of Energy and Public Works, Minister's Urban Design Awards for Movement and Place (Qld) it was also awarded the Regional Achievement Award at the 2023 Qld AILA Awards.
This project is a collaboration with
Four Fold Studio
and
Vee Design.
It involves the revitalisation of the main street of Miles in Western Queensland.
Completed in mid-2022, we were able to collaborate with Four Fold to engage with community representatives in order to understand the culture and history of the town. POMO also undertook one on one interviews and community engagement with local community leaders and residents. Through this process we were able to build upon a solid foundation of community involvement and gain a deep understanding of the special historical and cultural qualities of this unique community.
This framework has allowed us to embark on a creative design process and create a number of place-specific objects and embellishments that sit neatly in the landscape of the revitalised main street. These objects each tell a different story of Miles and represent a unique part of the town's history. The items were made by a range of creative professional including a local sculptor, two local visual artists and an artisan woodworker. Other tradespeople were also involved with POMO managing and being involved in each aspect of the delivery process from sourcing materials, selecting treatments and working hands on to help deliver one-off creative outcomes for this project.